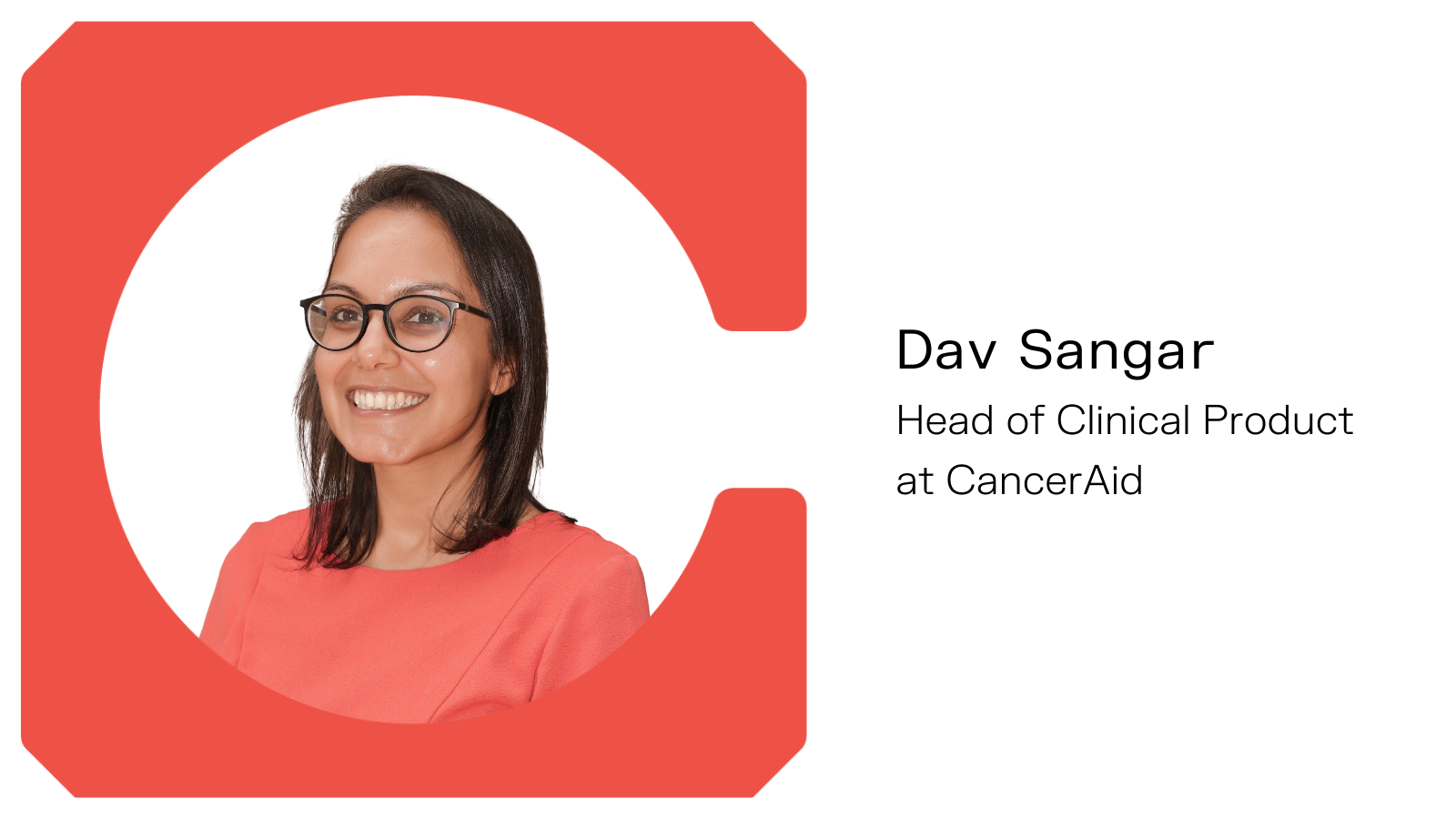 CancerAid is empowering people and organisations impacted by cancer through it's first-to-market, empathy-first support programs. This month, we had the opportunity to chat with their Head of Clinical Product, Dr Dav Sangar and deep dived into her insights on CancerAid's mission, her career transition from traditional medicine to digital health, and her experience across the UK, US, and Australian healthcare ecosystems.
"My transition into digital health was the clear next step to scale support and get to the wider population - helping and supporting them through education resulting in behaviour change..."
Tell us about yourself and your role at CancerAid.
I

've always had a passion for wanting to help people in a meaningful way so, in that sense, medicine seemed like the right fit for me. I have a clinical background having practised medicine in the UK for 7 years, including some of that time as a qualified GP. In 2018, an opportunity within the digital healthcare space came up and since then I've worked across a range of different healthcare startups. Since joining CancerAid in early 2022, I have been able to use my clinical knowledge and experience in an innovative and forward-thinking way - now I'm able to offer help and support at scale, as opposed to traditional patient facing medicine that enabled me to mainly help one person at any given time.




I've always had a keen interest in the actual products being built so in turning my hand to digital health, I've had the freedom to use my clinical knowledge, as well as understanding of patient needs, healthcare systems and healthcare professionals, to build products that could have a positive impact on people. As Head of Clinical Product at CancerAid I'm responsible for ensuring our product suite, ranging from our programs to our coaching approach, are meeting the unmet needs of our participants and customers in a forward thinking, innovative manner to help as many people as we can.





2022 has been an incredible year for CancerAid. We've experienced rapid growth, have been able to scale and have brought on some impressive team members and businesses. We worked hard to develop and launch a new product, Aware - a digital questionnaire designed on the premise that ~50% of people (in Australia) aren't meeting cancer screening guidelines. We've created Aware by CancerAid to allow people to understand if they are meeting the screening guidelines suggested in Australia (and if not helping them to access screening programs), as well as sharing information related to our lifestyle that could help encourage positive behaviour change that may in turn help reduce the risk of cancer.





I've also undertaken a project, alongside our health coaches to enhance our Cancer Coach and Caregiver programs and content to ensure people digesting the content understand the evidence-based nature of the tips and advice being offered.

Not only do we support individuals impacted, but we also have a selection of corporate workshops and training sessions to help build awareness around cancer prevention as well as supporting those impacted by cancer from support around colleague support at work through to the mental health impact cancer can have for all those impacted in various ways. It's work I'm really proud of.




What pressing problem in healthcare is CancerAid solving?
Cancer is the number 1 cost burden for employers and insurers - and cancer costs are rising. The healthcare system is under strain because clinicians are already incredibly stretched with an increasing number of patients to see, with increasing clinical complexity, but without an increase in time or resources to support patients in an entirely holistic manner, especially as they move into the next phase of their treatment or recovery. Patients should be encouraged to be active participants in their care in a holistic manner, but due to the aforementioned constraints in the healthcare system, it can be hard to access the information they need - if they are, it's delivered in an overwhelming and hard-to-digest manner with difficulty knowing how to apply changes to their everyday life and specific situation.
These issues are well documented across multiple research studies. The results show that cancer patients who take an active role in their healthcare see better outcomes, strengthened wellbeing and reduced costs.

An example of this is referenced in this article looking at how health outcomes and costs reduce as patient activation levels increase.



CancerAid is transforming the care in cancer by empowering and supporting people impacted by cancer. Our members have been diagnosed with cancer, or have recently taken on a caregiver role supporting those with cancer. The care provided by our specialist programs goes beyond what's provided as part of the traditional medical journey and complements it, meaning improved health outcomes for the individual and lower cost implications for employers and insurers.





I've witnessed first-hand the strain upon the healthcare system. It's a service that struggles to be able to optimally provide holistic care due to constraints and demands it is under. A product like CancerAid does exactly that.




You were a medical doctor for 7 years. How did you navigate the transition into digital health?
Through my experience in the clinical setting, I realised that I could have a meaningful impact by working towards helping disease prevention and improving patient empowerment.
I'm passionate about helping as many people as possible understand the benefits of good health. My transition into digital health was the clear next step to scale support and get to the wider population - helping and supporting them through education resulting in behaviour change.
I found that I was constrained by traditional medicine due to it being designed predominately to be reactive rather than proactive.



Your experience spans the UK, US, and Australian healthcare services. How would you compare their varying ecosystems?
Overall the pressing problems in the healthcare industry are uniform across all of these markets.
Healthcare remains a largely strained resource and there are access issues - whether that's due to increasing demand for resources, an ageing population or advancement in technology causing an increase in costs.
For each of these countries, an important turning point will be implementing efficiency by bringing on services that complement clinical practice - this will help to reduce the burden on the healthcare system and medical professionals. This can be achieved through innovative technology - lending itself to a reduced cost of care, faster access to support and a more holistic approach.
What do you hope to achieve in 2023 in your role at CancerAid?
This year we will be cementing our place in the US and New Zealand as the number one cancer support offering. Personally, I'll be working on the expansion of our current product suite as well as looking at the other challenges within the cancer space with the hope of reducing the burden on individuals and the healthcare system through our product offerings.


What are you currently reading, watching, or listening to that you would recommend to our community?

● I'm currently listening to the Desert Island Discs podcast. Each guest interviewed is allowed to choose 8 music tracks, a book and a luxury to take to a desert island. It's incredible hearing musicians talk about who was influential to them. I find it a fascinating listen, mainly because I love music, but also because I find humans inherently interesting and love learning about their backgrounds and decision-making processes… you can see how I ended up working with digital health products I suspect!


● As the festive season approaches, I've started re-watching some of my favourite Christmas films such as Home Alone, Elf, and Miracle on 34th St. Being a Brit there's nothing quite like a cold Christmas so I enjoy leaning into that!
● If you're interested in understanding more about the tangible value of the CancerAid product, then I recommend a read of The Rehabilitation Watch 2022 by Swiss Re. It shows that for every AUD 1 spent on external rehabilitation services, insurers saved an avenger of AUD 32.38.