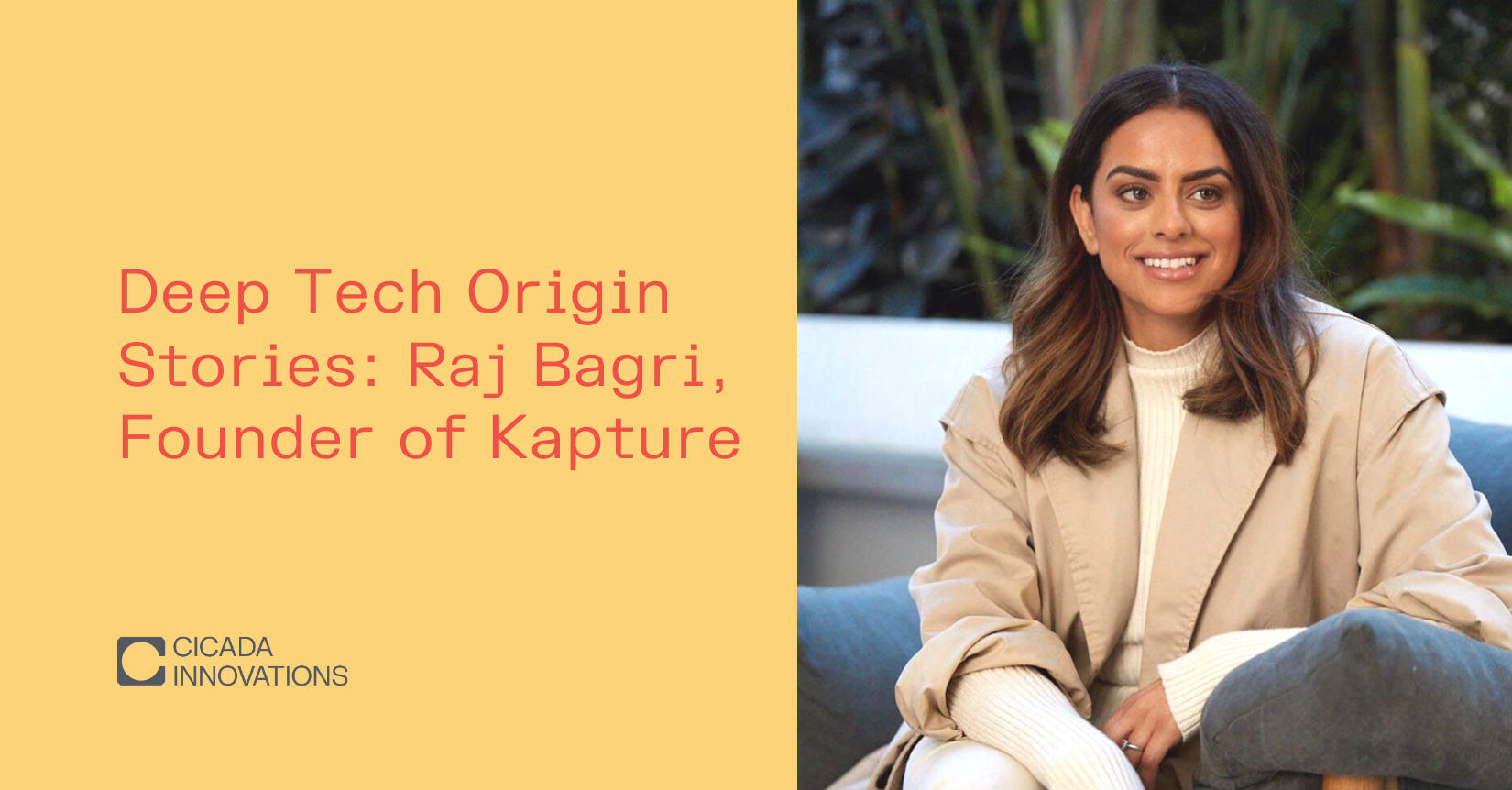 Welcome to Deep Tech Origin Stories. In this series of articles, we uncover the backstory of some of the most remarkable deep tech start-up founders from around Australia. This series celebrates the breadth, depth and diversity of Australian deep tech founders, and challenges the stereotypes of who gets to build a game changing global business.

Becoming a science entrepreneur is rarely a linear journey. It's a common misconception that you must go along a path that involves a commercial research lab or going to university for many years. At Cicada, we've met founders who come from so many varied and unique backgrounds and who have demonstrated that success comes from tenacity and a passion for problem solving.
Meet Raj Bagari from Kapture
Raj Bagri is no stranger to solving problems. A seasoned entrepreneur with 15 years of venture-building experience, she holds a unique ability to go from one industry to another and learn the rules and regulations in order to conquer that sector. After completing a business degree and a few years in corporate, she saw an opportunity to take on the beast that is the vitamin world. Raj developed a one-tablet supplement that cured postnatal depletion and was able to replace the multitude of different vitamins and minerals being prescribed to one patient.
Next came something else that had yet to be thought of. Raj developed the world's first goat and sheep hybrid infant formula. Together with a team of scientists, they were able to remove oil from the stage three formulation, which had never been done before, creating a formula that was much healthier for babies and the planet. During her work in the infant formula business, Raj truly learned about the devastating impacts of climate change. After trying to source ingredients, she came to fully understand deforestation and the problems with palm oil which opened up questions around carbon capture. This is where her curiosity really kicked in.
"Every news headline in 2020 was about carbon capture and how we need to capture emissions. So I kind of became obsessed about this problem, and really set out to find a solution to help solve it." - Raj Bagri, Founder of Kapture
This curiosity led Raj to her latest venture, Kapture. Raj developed a novel carbon capture and storage technology that provides CO² emitters with a simple and cost-effective solution to decarbonise diesel generators. This involves capturing, transporting and storing greenhouse gas emissions from fossil fuel power stations, energy-intensive industries, and gas fields by injecting the captured greenhouse gases back into the ground.
The birth of Kapture
The trajectory has been swift, infant formulas to climate tech.
Right before Raj founded Kapture, she was working in a food tech start-up for 10 months learning about how to extend the life of fresh produce. This is where she started to work with engineers, learned a lot about science and came to understand what capturing emissions meant. Raj also learned the earth is out of balance and somehow CO² needed to be added back into the soil.
But how did Raj find her way to creating Kapture? By accident, that's how. Carbon capture technology features two main parts — the hardware and the solvent. Raj was unable to access the toxic chemicals to experiment with, so she played around with their less problematic counterparts and discovered that they also had a similar outcome. At the time, she had no idea how impactful it would be to capture CO² with a non-toxic and non-hazardous solvent.
For most entrepreneurs, it's about trying to solve a problem that no one else has been able to fix. When Raj started Kapture, there was no solution to capturing CO² from diesel generators even though they are used by so many corporations. Raj saw the gap and jumped straight into it so her and her team could begin to prove the concept before making moves into other sectors.
Diesel generators offer reliable backup power for critical infrastructure in remote areas and developing countries with limited grid access. However, they rely solely on fossil fuels, contributing to air pollution, greenhouse gas emissions, climate change, and resource depletion. Kapture's CCS filter technology provides an easy retrofit to existing diesel generators and captures the CO² , NOx and particulate matter before they are emitted into the atmosphere. Through Raj's experimentation, she developed a solvent that can be disposed of safely in the soil.
When Kapture's technology is used with biofuels, diesel generators become carbon-negative. That means the more diesel generators are used, the more CO² can be taken out of the air. This approach to removing CO² from the atmosphere is cheaper than other approaches to direct air capture, and it uses diesel generators and biofuels — no direct air capture or bioenergy-fueled power plants are needed.
Not your typical deep tech startup founder
It's important to note that Raj had minimal background in science and technology. Raj claims she was never a good student, just great at learning on the job. But she believes if you're really passionate about a particular subject, you'll teach yourself all the things you need to know — with a little help from some experts, of course. Raj's vision to play a key role in decarbonising global diesel emissions and improving air quality are two main factors that have propelled her forward.

Which just shows that all you need to get started is a brain filled with ideas and strong aspirations to create positive change. Every touchpoint of her journey and the knowledge she has gathered from the corporate world to vitamins and beyond has helped her arrive at creating Kapture.

"I guess not having a technical background was actually a huge advantage. I was able to look at developing the technology with a different mindset. Traditionally, everyone uses science to develop technology, and I did the opposite" - Raj Bagri, Founder of Kapture

It became very clear to her that to solve the climate crisis, she had to look to engineers for the answers. But engineers are not entrepreneurs. Raj realised there was a huge opportunity because her expertise was thinking entrepreneurially about problems. She knew how to market a business, develop it and build the brand — a winning formula for success.

Raj enlisted the help of a group of PhD students to help her through the two-year research and development phase. During this time she read every book possible, watched every YouTube clip and read everything the internet had to offer her. The students were surprised with how much she knew about carbon capture for someone without a technical background. When there is passion behind what you do, it generates drive and determination to make it work.

Advice for other deep tech founders
It's no secret that deep tech innovations often involve significant upfront investment, and they take much longer time horizons for commercialisation. Raj found that being a part of a deep tech accelerator was imperative in the early days. Through this kind of mentoring, she was given practical advice on how to create a strong team, commercialise the business, and where to focus time, energy and funds.
As with any new deep tech venture, there are seemingly endless challenges, especially with world-first technology. It's often that founders are faced with scepticism and resistance, and they want to understand the risks. And then there's the validating science, producing hardware, and conducting research and development — it all costs money and lots of it. Raising funds for these kinds of companies will always be a challenge — it's just a matter of showing you can prove your science in the cheapest possible way.
Initially, Raj and her team were focused on decarbonising factories and trucks, but they didn't have a product-market fit, so they weren't getting any traction. Finally, it was an accelerator mentor who suggested they pivot Katpture to diesel generators, so they did, and that's when everything fell into place — everyone was interested.
Raj highly recommends getting involved with different competitions, no matter what stage you're in, as it provides exposure to people and networks that you might not normally have access to. She also notes that aligning yourself with credible mentors and accelerators in the early days helps build your reputation and lets you find those people you can trust.
The path Raj and her team have taken is to align themselves with strategic partners and corporates as it allows them to move fast and build our brand quickly. This has assisted them in getting their 2024 customer pilots with two global names. Off the back of a successful pilot, they will then go public without impacting their results. This plan will help them to understand their customer's requirements and fast-track Kapture to success and scale.
Learn more about Raj's brilliantly innovative climate tech company Kapture.
Kapture was one of the Tech23 — a showcase featuring 23 of Australia's most promising early-stage ventures that celebrates radical innovation and brave ideas from the world of deep tech.

Also if you would like to be part of the next Deep Tech Elevate Program, register your interest here and you could be the next Kapture!

Watch the Deep Tech Origin Stories fireside chat with Raj Bagari below.