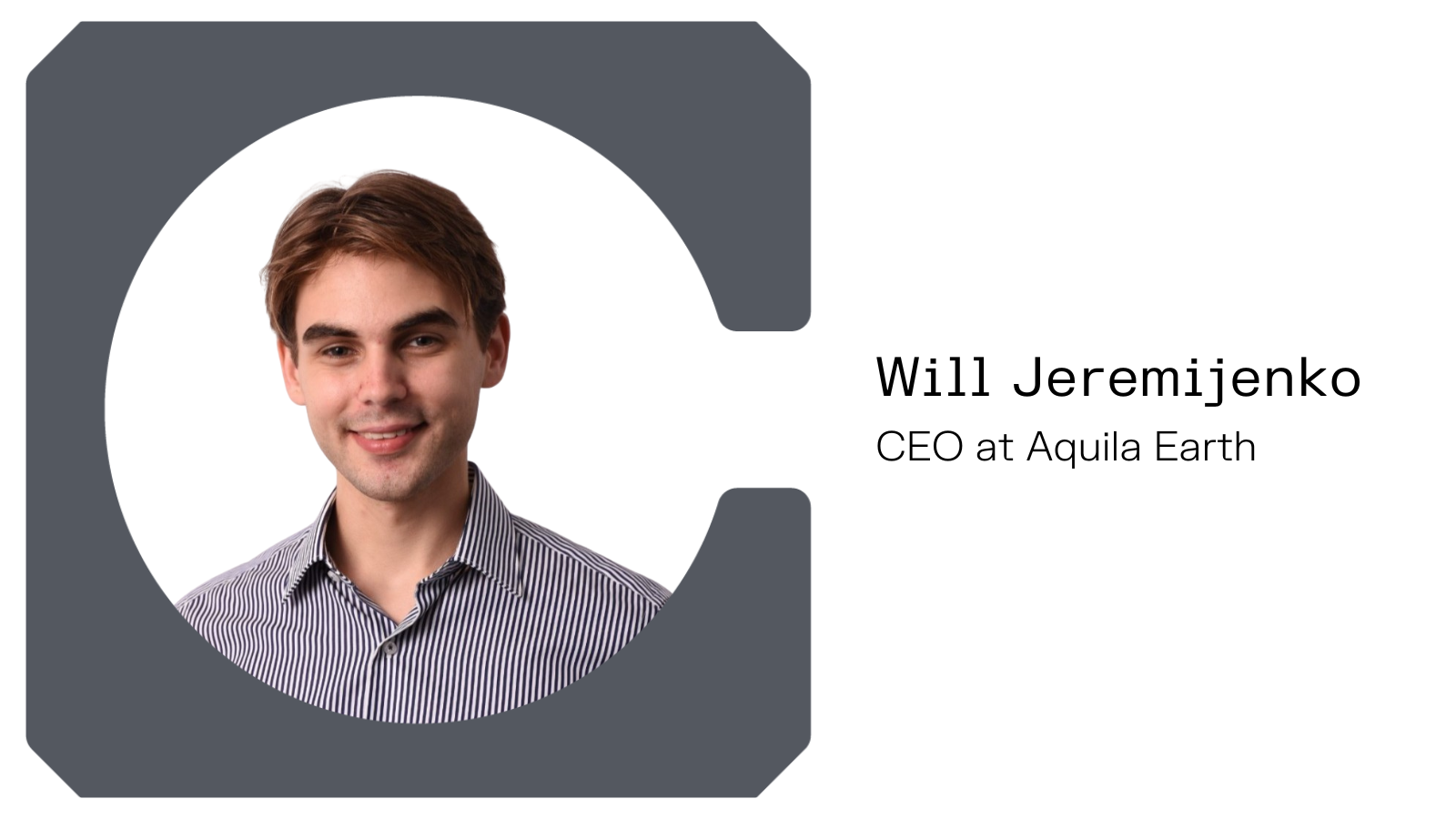 Will Jeremijenko is paving the way for the future of wireless energy-transmission with his company Aquila Earth. With a recent $3M round of funding, Will and his team are working to create a global energy-transmission network by bouncing laser energy around the world with orbiting mirrors and adapted solar panels.
This week we sat down with Will to learn more about his journey as a CEO in the space industry and his work and plans for Aquila Earth going forward.
"Be ambitious and clear about the mission—people want to help when you're working towards something meaningful."
Tell us about how you started working on Aquila Earth? What big problem are you trying to solve?
We're solving the problem of energy transmission. Our fundamental insight is there's always more than enough energy out there to power a sustainable, abundant future with no limits; the problem is capturing that energy and getting it to where it needs to be.
Traditionally, we transmit energy by building tens of thousands of kilometres of transmission lines—a mess of poles and wires—costing trillions to build, billions annually to maintain, and inherently limited to point-to-point, static power delivery with restricted range. Our radical idea is that there's a better way, by leveraging exponential trends in directed energy, to create new methods of transmission—the "internet" for power, if you will. We started Aquila by recognising this and identifying that semiconductor lasers were getting good enough to transmit energy cost-effectively on a massive scale.
How would you explain what Aquila does if you were at a barbecue?
We're building the "Internet of energy" to transport energy from where it's available to where it's needed using lasers and adapted solar panels.
You have recently joined the National Space Industry Hub, and in 2023, Aquila Earth had several wins. What key milestones are you more proud of?
I'm proud to close our $3M investment round, hire a fantastic team, and close the best pilot opportunities that will enable us to get laser energy transmission out there. I'm also proud of our technical development, as we've now shown we can transmit power at a sufficient scale using lasers to serve our initial applications.
What are three lessons you've learnt from founding and building a company, useful for other entrepreneurs in the sector?
You can't do it alone. Trust and rely on others to help you.
Be ambitious and clear about the mission. People want to help when you're working towards something meaningful.
Be focused and intentional about goal-setting. A startup has very limited bandwidth to do work, so you must be focused on working towards the most critical goals.
What is next for Aquila this year, and how can anyone reading this help?
Complete our pilot trials and get laser charging out there to charge mobile connectivity UAVs in partnership with Mirragin Project Isidore.
Scale to kW or power transfer and unlock the opportunity to start serving applications such as surveying coastlines in partnership with NZSLS.
Build technology to set foundations for an aerospace energy distribution network.
What are you currently reading, watching, or listening to that you would recommend to the Space Hub community?
I've been fascinated by all the recent advances in AI as it will impact how the new crop of companies will work and grow.

The All-In Podcast has been doing a good job discussing the sector from an economic perspective (though I don't necessarily agree with all the panellists from a personal perspective)
Lex Fridman has been doing a great job discussing it from a technical and philosophical perspective.
AI Explained is a youtube channel that does a great job assessing the sector and where it's going from a research perspective