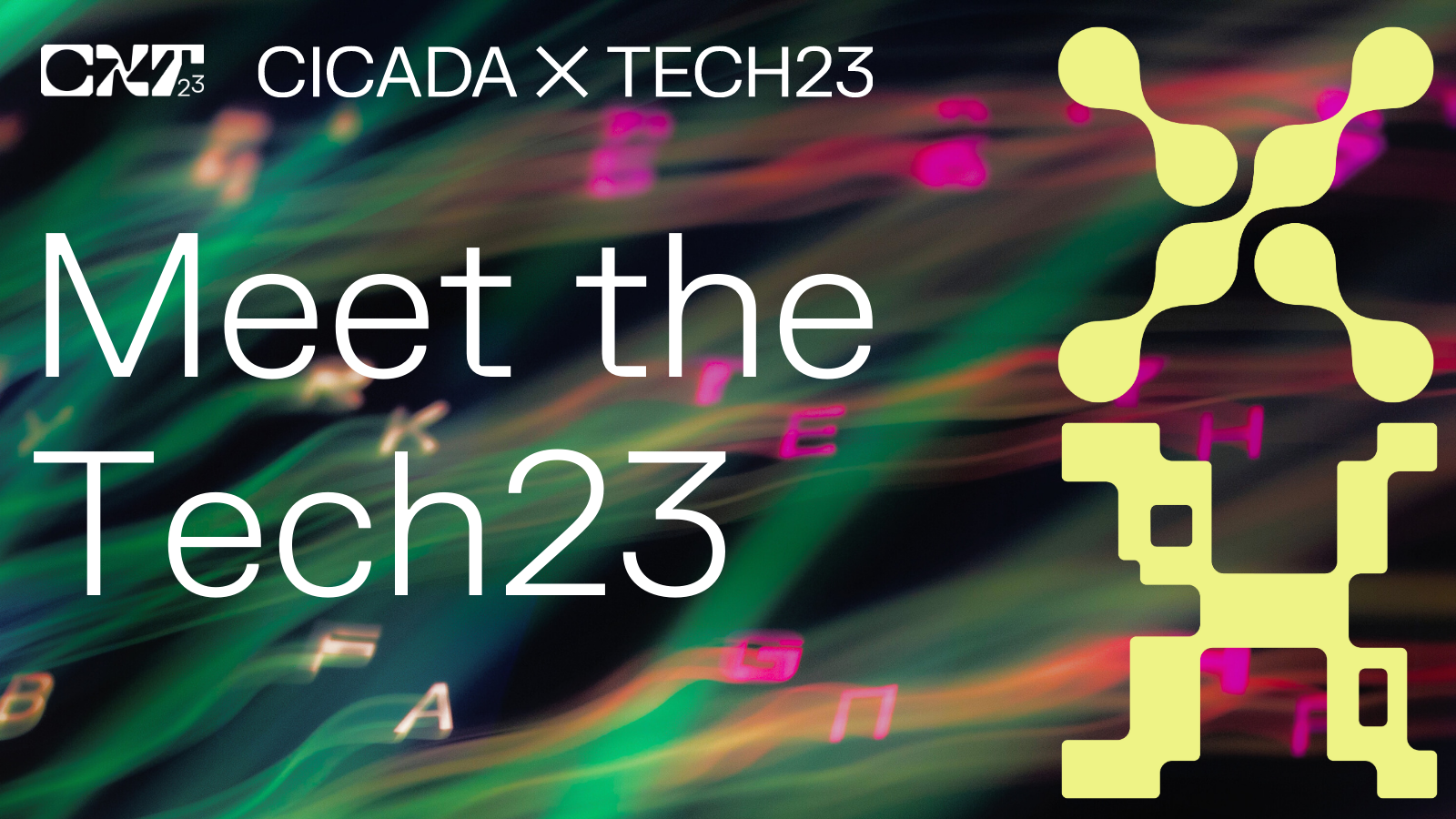 This article was also published by

Startup Daily

.
---
We have chosen 23 extraordinary startups who will be showcasing world-changing innovations at the annual deep technology conference
Cicada x Tech23.

Cicada became custodians of Tech23 last year, reviving Australia's longest-running deep tech event to support Australian deep tech innovators

The 23 ventures were chosen from more than 130 applications nationally – highest number received in Tech23's 13 years.

They're group under five overarching categories aimed at asking big questions about how we build the future to tackle broad-reaching problems, from ending waste and creating truly circular economies; to the rebuilt environment and creating sustainable, smart and biodiverse cities; shifting the mindset in medicine from cure to prevention; co-designing with nature by creating systems guided and powered by the natural world and supercharged by technology; and reimagining time by using advances in manufacturing, infrastructure, and computing to change how we use and experience our most valuable and limited resource: time.

We are coincidentally celebrating our 23rd anniversary this year, and CEO Sally-Ann Williams said we have stayed true to Tech23's DNA of celebrating radical Australian innovation and deep technological advancements, but has given the conference a makeover by moving away from pitches and prizes.

This year's Cicada x Tech23, on July 26, will feature a series of inspirational talks and in-depth panel discussions focused on addressing how we solve some of the world's biggest problems in a ways that transcend individual industries or technologies.

"Deep technologies are remarkable breakthroughs in science and engineering, with the potential to have a far-reaching impact on big, seemingly intractable, issues in the world. Deep tech ventures, like the 23 companies at Tech23, are finding commercial applications for these innovations," Williams said.

"To really understand the impact of deep tech ventures, we must think systemically, not through niches of technology or individual industries.

"These ventures often utilise or develop innovations in fields such as AI, biotech, robotics, quantum, and it's rare for these innovations to have applications in one sector alone, such as aerospace or medicine. "

Sally cited examples such as using space technologies to monitor agricultural conditions or provide healthcare solutions, and AI applied both to the monitoring of a patient and as a smart cities solution.

"At Cicada x Tech23, we want to spark this meaningful conversation and ask questions that urge us all to dream big, imagine new holistic approaches and think in systems, not silos," she said.

More on Cicada x Tech23 including booking tickets for the one-day conference in Sydney on July 26 is available here.
The selected startups are:
Ending waste
ElectraLith is building a direct lithium extraction system using renewable nano-materials and ionic superconductivity, to help the global goal of scaling lithium production by 20x by 2024.

Kelpy manufactures affordable seaweed bioplastic pellets with the potential to replace all single-use plastic products, starting with premium products such as cosmetic packaging, designer eyewear, medical equipment, and food packaging.

Samsara Eco has developed an enzyme-based technology that breaks down plastic, creating infinite recycling that eliminates dependence on fossil fuels to produce new plastics and chemicals, and could potentially eliminate plastic pollution globally.
Xefco is harnessing the unique properties of plasma to create a highly efficient, water-free solution for textile dyeing and finishing, with the potential to eliminate up to 20 percent of the world's water pollution and 2.5 percent of the world's carbon emissions.
Rebuilt environments
Rux Energy has developed advanced materials that double the density and halve the cost of hydrogen storage – problems which had been preventing decarbonisation of the heavy mobility, marine and aerospace industries responsible for half of the world's emissions.
Shifting the mindset in medicine
Atomic Oncology has developed a technology that predicts whether radiotherapy will be successful for any solid cancer, allowing for tailored therapy and precision medicine that is appropriate for that specific patient.
Eikonic R&D has developed a proprietary novel chemical compound capable of protecting against preventable oral diseases such as gum and tooth decay, that affect over half the world's population and can lead to disabilities and death.
Evolve Food has developed a cost-effective natural fermentation process that reduces the sugar content in vegetables and fruits, making the food and drink we consume healthier, and lowering the alcohol content of wine.
Native Secrets manufactures skincare products using Australian native plants and traditional Indigenous knowledge, to preserve the medicinal knowledge of Aboriginal Elders for future generations.
Neurode is developing a headband that can image the human brain in a real world setting, providing precision mental health care and personalised treatments for disorders such as ADHD.
Co-designing with nature
Hemideina's sound processing and miniature wireless technology device aims to overcome barriers to cochlear implant treatment adoption via a simpler, more comfortable and discreet design, giving people with sensorineural hearing loss a second chance at hearing.
LLEAF has developed a technology that engineers natural sunlight at a low cost, to enable local protected cropping facilities to supply a rich variety of edible plants with the highest possible nutritional value, in an environmentally and financially sustainable way.
Me& has developed a technology that replicates lactation outside the human body, transforming raw nutrients into the diverse and complex bioactive molecules found in human milk, and allowing vulnerable, premature babies access to the many benefits of human breast milk.
Rainstick has adopted ancient First Nations wisdom to technology that triggers seeds, plants and fungi to produce at faster and greater volumes, with the aim of solving the global food crisis.
ULUU is developing ocean-derived materials that are naturally plastic and home compostable, ending reliance on fossil fuel plastics and creating a plastic-free world.
Reimagining time
Analog Quantum Circuits (AQC) has developed a technology that shrinks the footprint of the critical components needed to build large-scale quantum computers by a factor of 1 million times, helping produce smaller and more efficient quantum computers, with a predicted market of $86B by 2040.
Millibeam has developed chipsets that reduce the total-cost-of-ownership of mmWave 5G/6G networks by 10x, through an order of magnitude increase in energy efficiency and radio-link range, allowing for very high-speed and high-throughput wireless connectivity.

Pending AI uses chemistry-based machine learning solutions to treat diseases and design, manufacture, and test new pharmaceutical drugs, to speed up early-stage drug-discovery projects and discover novel compounds.

Syenta is building an electrochemical 3D printer for scalable and efficient electronics fabrication to help with teaching and research, boost our economy, and speed up how fast we make new technology.
Previous winners of Tech23 include Culture Amp (2009), Morse Micro (2018), Regrow (Tech23 2017), and Inventia (Tech23 2018).
The combined capital raised by Cicada Innovations and Tech23 companies topped $5.7 billion by year-end 2022.
Cicada x Tech23 is proudly sponsored by NSW Government, Main Sequence Ventures, Australian Government Department of Industry, Science & Resources, CSIRO, University of Sydney, UTS, South Eveleigh, University of Queensland, Addisons, CFO Plus, IP Australia, Radium Capital and Third Hemisphere.
If you're a leading player in the ecosystem with the passion to support deep tech startups, express your interest to attend Cicada x Tech23.