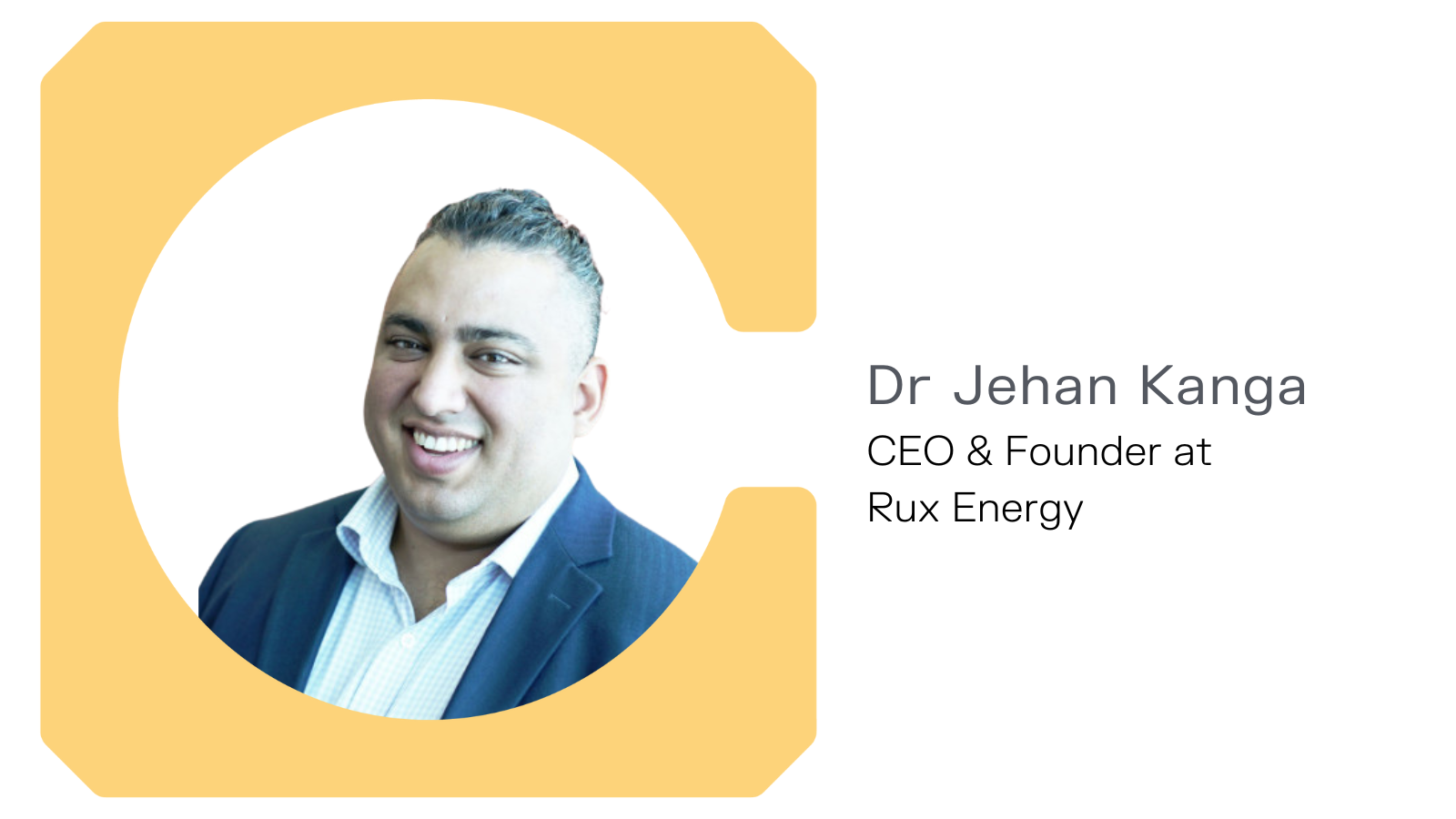 We are thrilled to support some of the most promising breakthrough ideas and continue to grow our resident community in our incubator. This month, we are delighted to welcome Rux Energy to Cicada Innovations as a new resident. We had the opportunity to speak with CEO and founder, Dr. Jehan Kanga, to learn more about how they are tackling one of the world's most pressing problems of inefficient storage for dispatchable hydrogen by enabling the shift to low-cost green hydrogen.
It's imperative to build strong support networks and find champions who will give you honest advice while also singing your praises in the market.
Tell us about how you started working on RUX Energy. What big problem are you trying to solve?
My journey with Rux started during my Honours & PhD at USYD, working with a group on hydrogen storage that had started their research in 2005. I'd been passionate about climate action since I was 10 years old, when I learned about the Greenhouse Effect at school, so finding a team working on the solution was deeply appealing to me. By 2016, my research started to reveal some breakthrough discoveries in MOF (Metal Organic Framework) technologies that formed the basis for Rux.
We are working on solving the problem of inefficient storage for dispatchable hydrogen in order to accelerate our path to zero carbon.
How would you explain what RUX Energy does at a barbeque?
We develop advanced materials to improve hydrogen storage efficiency for heavy mobility and aerospace. Basically, we make tiny magic sponges that are going to save the world.
You have developed broad expertise in several areas during your career. What are three lessons you've learnt from founding and building a company, useful for other entrepreneurs in the sector?
Find good friends, know what you can't do, and stick to the plan!
It's imperative to build strong support networks and find champions who will give you honest advice while also singing your praises in the market. This allows you to outsource critical elements that are outside your own expertise as well. One of the greatest challenges passionate founders face is deciding which ideas not to follow, so make sure your core team knows what the priorities are so they can help reel you in when the ideas start to expand.
What is next for RUX this year, and how can anyone reading this help?
We're prototyping and piloting our products and manufacturing. We're looking for two kinds of people - early adopters with whom we can trial the product and folks who guide us in our hydrogen product and project development. We welcome introductions and hearing from anyone with an avid interest in collaborating.
Get in touch with RUX here.
What are you currently reading, watching, or listening to that you recommend to the community?
Beyonce's Renaissance album is still on high rotation, along with Nils Frahm's Old Friends New Friends.
I'm eagerly awaiting the release of the next season of Dr. Who - both because I'm an avid Whovian, but also because it's time we had a queer POC doctor!
Bell Hooks' All About Love is a must-read, and I can also highly recommend.
This Arab Is Queer, a phenomenal collection of Australian poetry by Elias Jahshan. I've had to buy another copy because I passed mine on to Alok when they were recently in Sydney.
If you're a deep tech startup looking for a new home, discover more about how our incubator can support you.